Playback Winter 2017
From Playback winter issue, interim editor Megan Haynes on speaking up to shift the balance of power.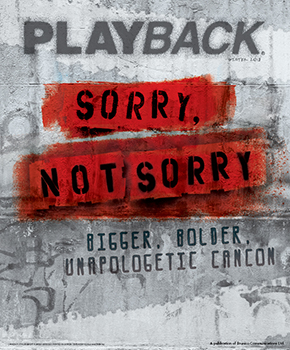 I've been thinking a lot about power lately – who has it, who doesn't, who needs it.
In this post-Weinstein world, the power imbalance in the media sphere has come to the fore. I mean, it's always been there. But it took literally hundreds of women speaking out against their harassers and attackers for the industry to pay attention. People are paying attention now – and that's good. We need to keep listening and reacting, and we need to ensure there are meaningful consequences for actions.
But we also need to shift the balance of power.
In another life, I had a former company president email me with a complaint. He was unhappy with a story I'd written, and didn't mince words. He said my writing was awful. I was a hack. I should become a plumber. I'm not ashamed to admit his words made me cry. I told a friend who said if I pissed off someone that easily, I must be doing something right. But, that's not what it felt like.
His words held power. He's a well-known man who had risen to do great things with his career. He tore me down because he could. He's a man in power and he made me feel like garbage all because he disagreed with me. Part of me believed him.
And it's hard for people to speak out against people with power. He had zero control over my employment or career advancement and I still didn't speak up.
If I struggled to tell off a man who verbally abuses me, I absolutely cannot imagine how hard it is for people to come forward when the person harassing them is their boss. (If your immediate response is that people need to toughen up or get thicker skin, then you might want to take a long look in the mirror and decide if you're part of the problem in this industry.)
In September, before the news of Harvey Weinstein broke, we gathered some smart people around a dinner table to talk about diversity. It was an important conversation around how we can increase on-screen and behind-the-scenes representation. And while there's some fascinating insight into how an international export focus is a weird barrier to more inclusion, Jennifer Holness, president, Hungry Eyes Productions, offered a nugget of insight that resonates in this post Weinstein world.
The gatekeepers of content – the people in power – often have an unconscious bias. It's not personal; they don't actively go out of their way to discriminate against minority groups. But, there is a bias towards seeing yourself in the audience (various studies confirm this unconscious bias exists). The result is hires and content commissions that look like they do – a group of predominently cis-gender white men.
Fix that imbalance, and you might start seeing more diverse content on the screen.
There will always be people who say, "We hire for talent not colour or gender or sexual orientation!" Well of course you hire for talent. But how willfully naïve do you have to be to think the only people with talent happen to be the same race or gender as you? It may not be easy to find someone who fits the diversity mould, but it's time to look harder, further, faster.
This isn't a new argument – but post Hollywood #Reckoning, it does take a sense of urgency.
While drafting our Industry Manifesto (see link below), the organizations we spoke to all highlighted the lack of representational parity at the top levels as barriers to women coming forward. A 2003 study from the Journal of Occupational Health Psychology found that 75% of women who report harassment face some form of retaliation for speaking out.
The researchers attributed this largely to who sits at the top of the power structure and the culture they create. In the film and TV space, in many cases these women are bullied or harassed right out of the industry.
Sexual harassment and bullying are almost always expressions of power and hostility, and they are problems that exist in every industry. We need to recognize that a power imbalance exists and come to terms with what that means and address it.
The abuse of power is a spectrum of behaviour and outcomes that spans straight-out abuse and harassment to willful and unconscious exclusion. It affects not just gender, not just race. It's also ageism, socio-economic imbalances, stereotypes against sexual norms.
Everyone has a role to play in changing the news cycle and opening up the industry to new voices. It's time to step up.
Also in this issue, we look at the bold and unapologetic new Canadian content strategies from our Best of the Year winners, dove into FX's programming strategy, explored everyone's love for David Rocco, and more. Check back here for story links as we post them.