CBC drama The Trickster goes to camera in North Bay
Kew Media Distribution will handle international sales on the six-part project, which was adapted for the screen by co-showrunners Michelle Latimer (pictured) and Tony Elliott.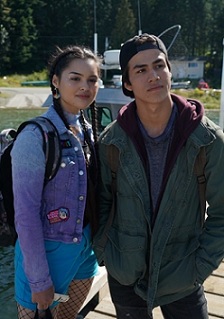 Michelle Latimer has been tapped to direct all six episodes of CBC's hour-long drama The Trickster, which has started filming in North Bay, ON.
Produced by Latimer's Streel Films and Sienna Films, the darkly humorous coming-of-age story stars Joel Oulette as an Indigenous teenager struggling to keep his dysfunctional family above water.
Based on Eden Robinson's best-selling book trilogy, Son of a Trickster, the TV adaptation was co-created by Latimer (RISE, Nuuca) and TV scribe Tony Elliott (Orphan Black, 12 Monkeys). The pair will serve as co-showrunners.
Kew Media Distribution, which is the parent company for Sienna Films, will handle international sales on the project outside of Canada. The series is scheduled to premiere in 2020 on CBC's linear channel and its OTT platform, Gem.
Also starring in the series is Crystle Lightning, Craig Lauzon, Kalani Queypo (Jamestown), Anna Lambe (The Grizzlies), Joel Thomas Hynes (Little Dog), Gail Maurice (Cardinal) and Georgina Lightning (Blackstone).
Executive producers are Latimer, Elliott and Sienna's Jennifer Kawaja and Julia Sereny. Co-executive producer is Penny Gummerson.
The Trickster was among a number of new shows commissioned as part of CBC's 2019 Upfront in May. Also greenlit was Canada/New Zealand The Sounds (Shaftesbury, South Pacific Pictures) and Fortunate Son (Seven24 Films, Lark Entertainment).
Anna Lambe and Joel Oulette pictured left and right