Playback Summer 2020: How we reopen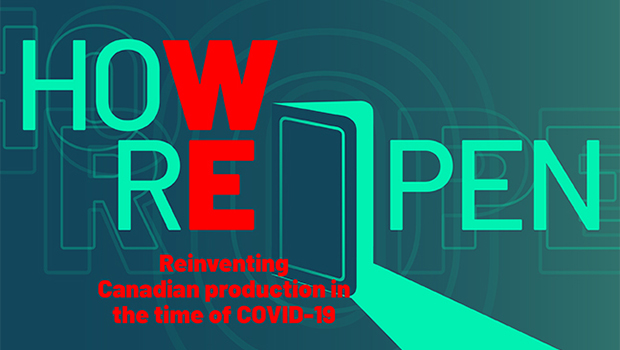 The summer 2020 issue breaks down how Canada's screen-based industry coped with shutdowns and found innovative solutions to restart production in a pandemic.
If this edition was printed, you would feel its weight.
Not only is it the largest edition the Playback team has put out under my (limited) tenure, but our team has reached out to a hefty cross-section of the screen-based community. We brought together dozens of stories from across the country of opportunities lost and insights found during the coronavirus pandemic lockdown. All from the cramped comfort of home. (We hear you Tassie Cameron, when you say, "God, I wish I had stock in Zoom.")
For this issue, we spoke with writers, actors, producers, directors and publicists such as Dennis Heaton, Paul Sun-Hyung Lee, Thirza Cuthand, Michelle Latimer and Cynthia Amsden. We listened to CEOs and company founders such as Ngardy Conteh George, Howard Barish, Lindsay Nahmiache, Daniel Jones and David Kines.
We learned where they were when the industry shuttered, of the immediate impacts, how they are keeping their skills sharp – and where they are hunkering down while trying to advance projects. (So sorry that you are in your childhood bedroom at your folks' place, Carol Nguyen, but we're very curious to see your purple walls, stuffies collection and Breaking Bad posters.)
While we were unable to use all your comments, be assured your voices will find a place on Playback's website during the coming weeks. Your contributions are appreciated. If there is a thread we can pull that weaves through these stories it is gratitude.
"It's been an incredible learning experience, and I feel lucky to be able to still work and serve the arts community through everything I do," says Mariam Zaida, a documentary filmmaker who is executive director of the Breakthroughs Film Festival. "What has kept me going is the caring, compassionate people I work with and the knowledge that I am not alone in the way I feel."
Like Breakthroughs, the Banff World Media Festival has shifted to a virtual event including a special broadcast of the annual Rockie Awards, honouring the best in television and digital programming. More on this inside our edition.
For all we spoke to, it seems the forced work-from-home situation has been a catalyst. New technology is being adapted, new workflows created and new clients met in the virtual ecosystem. With theatrical releases halted, some like writer-producer Corey Shurge signed non-exclusive deals for his film to appear online. Stuck saw a significant boost from locked-down audiences – racking up 11.8 million views and counting. Explore inside how he's leveraging those numbers for another project in our future of film feature.
This issue was meant to focus on sharing stories of hope, to celebrate and support the industry during this trying time. But, like many, we are grappling with the appropriate response to the killing of George Floyd and the troubling scenes of police brutality seen in the following days of protest.
Our parent company, Brunico, has supported the BIPOC community through initiatives like the Netflix-BANFF Diversity of Voices Initiative. We already know that diversity makes for better content and better profits. Now we realize that's not good enough. We want to use this moment as a catalyst to question ourselves and ask how can we better reflect the diversity and issues of marginalized creators.
That one 8:46-plus minute video could spur hundreds of thousands worldwide to flood the streets in anti-racism protests is a stunning testament to the importance of the medium, and its ability to turn the conversation.
Keep safe. Keep telling stories that need to be heard.
Liza Sardi
Editor-in-chief & content director,
Playback & Banff World Media Festival
Read the full edition here.