Love Nature greenlights Tim Winton series on Australia's Ningaloo Reef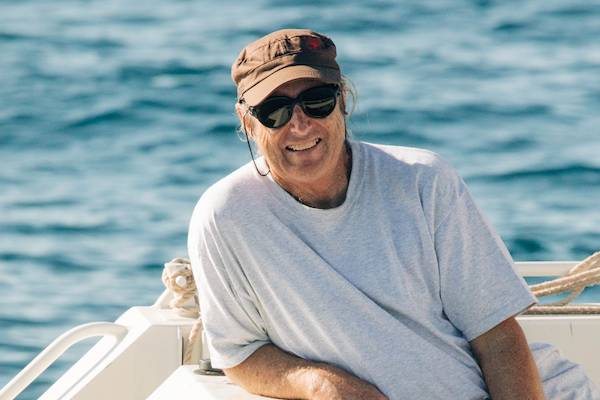 The Blue Ant Media-owned brand will air the series on its linear and streaming platforms, with Flame Distribution handling worldwide distribution outside of the co-producer territories.
Blue Ant Media's Washington, D.C.-headquartered wildlife and nature brand Love Nature has partnered with Australia's national broadcaster ABC, Artemis Media and Matter of Factual for Ningaloo with Tim Winton.
The three-part series will see bestselling author and environmental advocate Tim Winton explore the interconnecting ecosystems of the Ningaloo Reef, a World Heritage site located on Australia's northwest coastal region.
"This is a deeply personal journey for me," said Winton (pictured), whose novels and short stories have been adapted for numerous films and television series, and who has worked for more than two decades to raise awareness about the threats facing the reef.
"Ningaloo has had an enormous impact on my life and work, and this is a once-in-a-lifetime opportunity to pay homage through new science, ancient knowledge and a shared ethic of stewardship. I'm thrilled that Love Nature has supported this venture."
Stretching for 300 km along the coast of Western Australia, Ningaloo is the world's largest fringing coral reef and home to hundreds of species of fish, coral, and mollusks, as well as whale sharks, humpback whales, dolphins, manta rays, and turtles.
The reef's neighbour, the unprotected Exmouth Gulf, also houses the world's last stable population of dugongs, the large marine mammals whose other natural habitats have been degraded to the point that the species has become vulnerable to extinction.
"Ningaloo with Tim Winton is an important Australian story that will unlock access to one of the last unspoiled landscapes remaining on the planet, while also creating an emotional audience connection to the Ningaloo Coast's wildlife and Indigenous culture," said Carlyn Staudt, global general manager of Love Nature, in a statement.
The series will also explore the Cape Range region that borders the reef, an elevated plateau that is undergirded by deep canyons and limestones caves, which house both ancient troglobite species that can't be found anywhere else on the continent, as well as evidence of human habitation that dates back tens of thousands of years.
Ningaloo with Tim Winton will air on Love Nature's international linear and streaming platforms and on Sky Nature in the U.K., Germany and Italy, with Flame Distribution handling worldwide distribution outside of the co-producer territories. Winton shares writing duties with director and executive producer Peter Rees, while Celia Tait serves as EP for Artemis Media and James Manfull for Love Nature, which has offices in Los Angeles, London, Toronto and Singapore.
This story originally appeared in Realscreen